Insightful strategies help deliver business results.
An effective marketing strategy should directly address and connect your brand, customer needs and emotions. It should identify the 'white space' where your brand can make most impact and stand out from a cluttered competitive environment, where everyone is saying the same thing. 
Clout Marketing utilises the 6-step SOSTAC model for developing effective strategies for clients, encompassing marketing and digital strategies. The SOSTAC planning model is broken down into 6 stages:
Situation – Where are we now?
Objectives – Where do we want to be?
Strategy – How do we get there?
Tactics – What specific tools will be use to get there?
Action – What is our plan and what are the timings for implementation?
Control – Did we get there? If not fine tune (in real-time)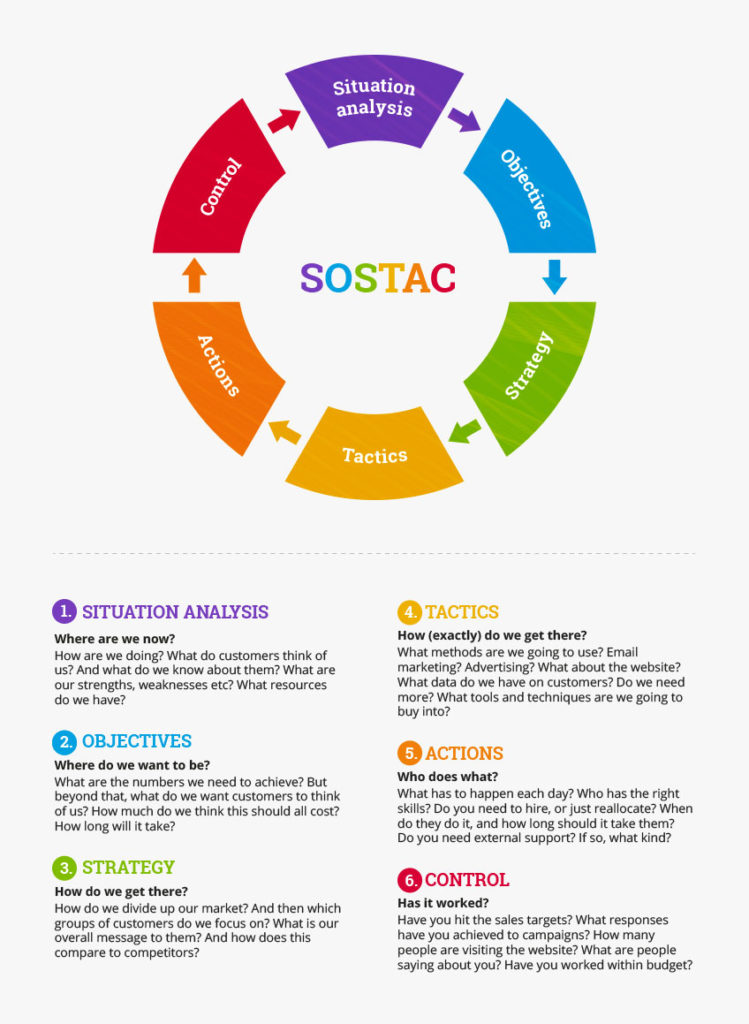 As you can see from the SOSTAC planning model on this page, each stage of the process is in-depth to gain a comprehensive understanding of your business, brand, challenges and objectives. And most importantly – what does success "look like" for your business. This strategy is scalable according to the size of your business and stage you're at.
If you're launching a new brand or have encountered increased competition in your business category, then a full program is recommended. This is often complemented with market research to unearth valuable customer insights. If you're looking for a new campaign launch or a refresh, then a less in-depth approach may be most feasible.
Clout Marketing can plan, prepare and implement strategies covering the following areas;
Brand Strategy

Communications Strategy

Creative Strategy

Media Strategy

Digital Strategy

Customer Experience Strategy